The Country Caretaker Garden Center offers a wide range of unusual heirloom and special annuals, perennials, herbs and vegetables — all grown right here in our greenhouses. We offer most everything a home gardener or professional landscaper needs.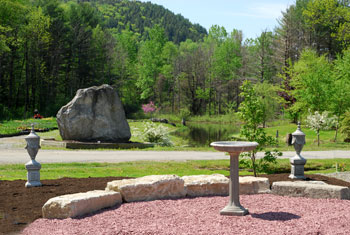 To support your plantings we offer top quality:
Decorative stone and gravel
for your garden, driveway and paths
Loose or bagged
Mulch
Sweet Peet —


The best mulch on earth — a 100% organic product made from composted ingredients harvested from local farms. Its rich dark color and natural texture are the perfect visual enhancement in any landscape setting. With a high moisture retention value, it is excellent for perennial, ornamental and vegetable gardens, and around the base of trees and shrubs.

Top soil
Container planting —


Either bring in your empty containers, buy some here, or we will go to your home and plant your containers and window boxes.

Garden consulting and design


We love to work with our customers laying out your site and picking the right plants for the right place.

Just tell us what's in your garden or what color(s) you want, and if it is for sun or shade, and we will make something magical.

Garden gifts
including plant stands, baskets, knick knacks, wind chimes, bird houses, fountains, pottery, trellises and benches
Grass seed
Fertilizer
Landscape paper
Call for a free quote.