We may not have everything listed here. Please call ahead for availability.
BASIL
Aroma II
Cardinal
Dolce Fresca
African Blue Basil
Spicy Globe
Pesto
Lemon– Adds a citrus flair to fish and salads. Zesty lemon aroma.
Purple Ruffles – Large ruffled leaves good for garnishing, great for containers or in garden beds as an ornamental. 16-20" tall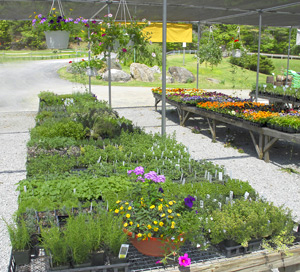 Cilantro /Coriander
Foliage is called cilantro, edible seed is known as coriander.
Curry
Eucalyptus
Geranium Scented
Chocolate
Nutmeg
Citronella
Lavender
Big Time Blue ( Zone 5)
Super Blue (Zone 5)
Hidcote Blue (Zone 5)
Phenomenal (Zone 5)
Annual Lavender
Anouk Deep Rose
Goodwin Creek
Kew Red
Lemon Balm
– Fresh leaves for tea and salads. Distinct lemon flavor. 18-26" tall
Lemon Grass
Lemon Verbena
Marjoram
Mint
Chocolate
Hilarys Sweet Lemon
Mojito
Orange
Variegated Pineapple
Spearmint
Strawberry
Oregano
Golden
Italian
Kirigami
Variegated
Parsley
Rosemary
– Silvery needle-like foliage and delicate flowers. Know as the herb of remembrance.
Sage
– Dusty green leaves. Use in dressings, sauces.
Golden
Purple
Sage
Tri-Color
Stevia
– Incredibly sweet leaves are used as a herbal alternative to sugar. 18-30" tall
Sweet Woodruff
Tarragon
–
Thyme
–Culinary and ornamental herb.
Doone Valley

Elfin

English

Foxley

Highland Cream

Lemon

Lemon Varigated
Mother of Thyme
Pink Creeping

Red Creeping

Silver Edge

White Creepin

Wooley